Browse Our Catalog of 200+ Interactive EMS and Fire Continuing Education Courses!
Courses Starting at Only $7.00!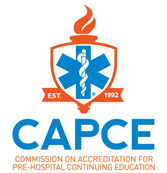 100% Trusted, CAPCE-Approved Content
All Recert courses are nationally accredited by CAPCE, the Commission on Accreditation for Prehospital Continuing Education (formerly CECBEMS). Almost every state accepts CAPCE credits. Contact your State Office of EMS to verify acceptance.
The Jones & Bartlett Learning Public Safety Group and the National Association of Emergency Medical Technicians (NAEMT) are pleased to bring you Recert , an innovative online continuing education service that offers engaging courseware mapped to a personalized recertification roadmap.

Recert makes meeting recertification requirements more efficient, by increasing the accessibility and tracking of high-quality online EMS continuing education for ALS and BLS practitioners.
Most courses take just 1 to 2 hours to complete and feature an emphasis on interactive, media-rich, scenario-based learning.
Use Recert to track all continuing education hours, from online and instructor-led courses to in-person events, as well as skills proficiency.
Recert Products
Recert courses are available for both ALS and BLS providers. Select a subject area below to browse available Recert courses.