There's More Than 1 Reason Why We're #1 in EMS Assessments
The Jones & Bartlett Learning Public Safety Group offers a variety of testing solutions to meet the needs of different emergency services educators. Whether you're looking for something to help with administering class exams or preparing for the Registry exams, the Public safety Group has a solution to fit your program's needs.


Fisdap Testing

Purpose
Fisdap Testing is designed around two primary objectives:
Ensure students are prepared to pass the National Registry exam on their first attempt
Equip students with the skills required to be successful in the field
There are four separate tools that make up Fisdap Testing:
Entrance Exams
Comprehensive Exams
These exams are not intended for use as traditional quizzes and tests, but rather as a combined method of predicting an individual's likelihood of success on the National Registry exam. The exception to this is the Entrance Exam, which is used to measure students' program readiness.
How to Purchase
Available through an institution or alongside select Navigate packages
Not purchasable by students, except for Study Tools
Value
One of Fisdap Testing's biggest strengths is its community-built exams. Questions are contributed by a wide community of EMS educators and practitioners across the country, and reviewed by:
Subject matter experts, many with experience writing for NREMT and other exams
EMS Students, who also play roles in data gathering and vetting prior to publication
A board-certified Emergency Physician & every Medical Director in participating programs
Students have the option to flag items for review, and Fisdap keeps track of every single item complaint and edit to preserve the efficacy and validity of each question.

Each Fisdap exam is piloted with geographically diverse EMS students across the US, and employs several methods to ensure transparency and integrity, including:
Using Classical Test Theory (CTT) and Item Response Theory (IRT, Rasch analysis) to distinguish proficient students from those still learning
Correlating exam scores with first-attempt National Registry certification results to calculate positive predictive value of the exam
Publishing community piloting data in research abstracts
Each student attempt generates a Learning Prescription (study guide), which:
Reveals their performance across the National Registry curriculum
Highlights topics in which they scored lower than the average needed to pass
Fisdap's secured exams are exclusively designed to be delivered in a proctored environment, whether on-site in a computer lab, or remote. Practice exams as part of Fisdap's Study Tools do not require proctoring.

To further boost exam security, correct answers are deliberately omitted to prevent students from seeking answers online before the exam, in order to mitigate cheating. Instructors can request a copy of the test and are sent a coded PDF to track unlikely breaches in exam security should they occur.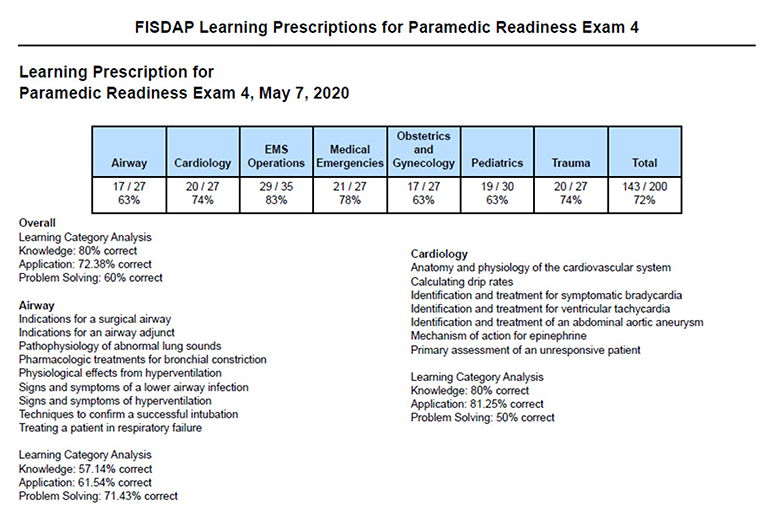 Sample Fisdap Exam Learning Prescription
TestPrep
Purpose
TestPrep generates practice assessments:
Students choose from a variety of National Registry units and topics
Can be a test on a specific unit, or a comprehensive exam for self-evaluation and certification readiness
Questions are randomly selected and a practice test or exam is generated
How to Purchase
Available within select Navigate packages and as a standalone product
Contact your Public Safety Group representative or visit www.psglearning.com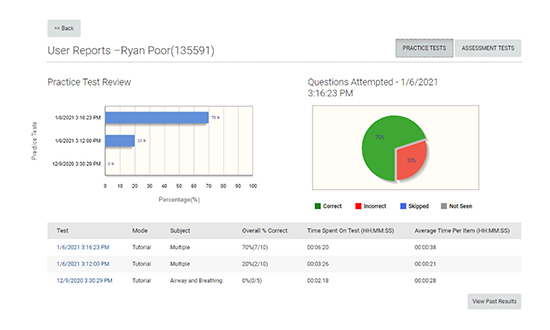 Value
TestPrep is designed to help students and professionals prepare for class, state, and national certification exams:
Customized practice exams with a variety of different subject categories
Simulated certification exams that use case-based questions and detailed rationales
These align with the question format/style and overall breakdown of units/categories included in the National Registry's certification examinations, with the goal of preparing students for the national exam. Results pinpoint where they're excelling and struggling in their studies.

TestPrep questions require critical thinking, forcing students to use their problem-solving skills to determine the "best" answer. This is done using:
Distractor questions, crafted to include some level of "plausibility"
Comprehensive rationale for every correct and incorrect answer, helping students understand the "why" behind even the most challenging questions.
Detailed analytical tools are provided as well, with instructor access to facilitate tracking student progress and assessing readiness for certification exams. These tools include:
Information on how long students took to complete the exam
Opportunities to review the answer rationales (why correct answers are correct, other options are incorrect, etc.)
A Jones & Bartlett Learning study discovered that students who use TestPrep have a 14% higher first-time pass rate on the NREMT certification exam than average, with 96% of users saying they were "very satisfied" or "satisfied" with TestPrep.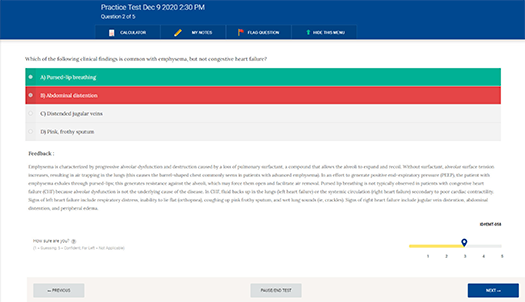 How To Purchase
Test Banks are included with adoption of most Public Safety Group textbooks
Online access is included in the text or can be purchased as an online-only option
Value
EMS test banks (available in Navigate and the Instructor Tool Kit) are written by subject matter experts to align with the student text. EMS texts are written by experts in the field and reviewed and approved by our medical publishing partners to align with:
National EMS Education Standards
National EMS Scope of Practice Model
National Practice Analysis
Recent ILCOR standards
The number of test items for a given topic or chapter correlates to its level of coverage in the associated textbook. Test questions are "best answer" items, primarily scenario-based questions designed to assess one's "big picture" knowledge. (Some are written to assess knowledge learned directly from the text.)

Some item stems are intentionally vague, to reflect the vague manner in which patients often present. EMS providers must use their critical-thinking skills to make treatment decisions based on limited information, and students will also encounter these same types of items on the NREMT exam, so we deliberately provide early exposure to these.

Navigate Test Bank offers these ease-of-use features:
Questions organized by chapter
Quizzes and exams created easily using Navigate's assessment engine
Assessments that report directly to the gradebook for desired weighting
With Navigate Test Bank, managing your classes' quizzes and exams has never been easier!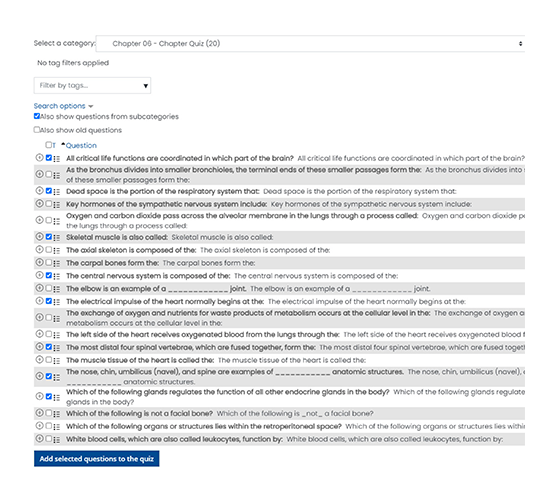 Test Generator View
Let us help you take the hassle out of EMS testing. Complete the form below to request more information about testing resources available to support your course offerings.