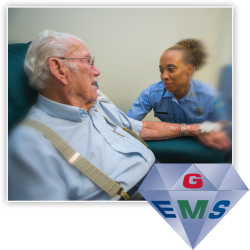 Still need to meet NCCP requirements?

NAEMT's Geriatric Education for Emergency Medical Services (GEMS) course has you covered!

Did You Know?
Geriatric Education for Emergency Medical Services (GEMS) is an 8-hour course that prepares EMS practitioners to respond to the unique challenges and needs of an older patient. GEMS features case-based lectures, live-action video, hands-on skill stations, simulation, and small group scenarios to fully engage students in the learning experience.

In addition to empowering practitioners with geriatric-specific training, the course also covers several sub-topics from each of the required NCCP Model broad topics:

Airway, Respirations, Ventilations (ARV)

Cardiology

Trauma

Medical

Operations
Click here to view the full Standardized Course Guide Mapped to NCCP Topics (page 15).

Ready to get started?:
---
Additional GEMS Resources:
In addition to the GEMS, Second Edition course materials, three standalone GEMS courses are available on our Recert platform for your convenience:
For more information on GEMS resources, please contact your dedicated Public Safety Specialist today.