Stay up-to-date on new Recert courses and features with the monthly
Recert Digest
.
Recert Continues to Grow: 50+ Popular EMS World Articles Available Now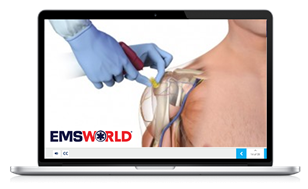 This month, we're excited to announce that you can now access dozens of your favorite EMS World magazine articles as continuing education modules in Recert!

After reading each article, simply pass an ALS- or BLS-provider level quiz at the conclusion of the article and you'll be eligible to receive 100% CAPCE-approved continuing education credit.
Plus, like all other individual courses in Recert, access to each EMS World continuing education module is just $6.95. You can also purchase unlimited access to 130+ hours of EMS continuing education, including dozens of your favorite EMS World magazine articles, for just $59.95.

To view a complete list of the Recert courses available, check out our course catalog.
---
Coming Soon: Fire-Focused Recert Courses

Our team is hard at work adding new Fire courses to the Recert platform. Stay tuned to find out when 80+ Fire Fighter, Fire Officer, Fire Service Instructor, and Hazardous Materials courses will be available!

---
Did You Know?

Each day, we're making it easier for employees to maintain their continuing education records and for employers to track their employees' progress.

Most recently, we enhanced the Recert platform by adding an all-new "Completed Recert Courses" tab. In addition, this update:

Allows employees to easily access their CAPCE certificates or their completion cards


Places unassigned courses to the top of the list for ready access


Keeps users organized by placing courses outside the EMS track—such as the upcoming Fire courses—into an "Other Courses" section


---
In Case You Missed It: The Full NCCP Catalog Available Now

Recert now offers users the ability to fulfill any national requirement in the NREMT National Continued Competency Program (NCCP), in addition to a variety of high-quality courses on true continuing education topics that can be applied to local and individual requirements or other state-specific recertification paths.

View the Recert course catalog.

---

Visit www.recert.com to create your free profile or a request a demo today!