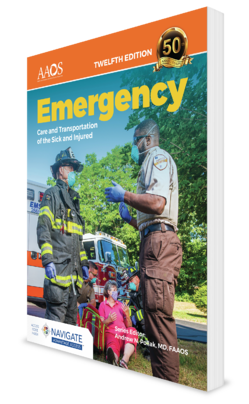 BURLINGTON, MASS. –Jones & Bartlett Learning Public Safety Group, a division of Ascend Learning, announced the release of the 12th edition of Emergency Care and Transportation of the Sick and Injured, 50 years after the American Academy of Orthopaedic Surgeons (AAOS) published the first edition in 1971. Since that time, the textbook has helped transform how EMS education is delivered throughout the world and helped train millions of world-class EMS providers.

In 1997, the AAOS partnered with Jones & Bartlett Publishers (now Jones & Bartlett Learning) to release Emergency Care and Transportation of the Sick and Injured, Sixth Edition. Since the publication of that edition, these organizations have worked together to create teaching and learning systems that combine superior medical content with market leading technology solutions and online courseware to transform all levels of EMS training. The 12th edition features the most comprehensive suite of instructional materials yet to ensure complete coverage of standards and science and provide needed information on career readiness, critical thinking, and mental health.

"On behalf of the Jones & Bartlett Learning Public Safety Group and Ascend Learning, we're honored to help celebrate 50 years of excellence from our valued partner—the AAOS," said Tim McClinton, President of Professional Education, Ascend Learning. "Day in and day out, this textbook helps improve the quality of emergency medical care in the United States and abroad; it's inspiring to think of how many lives have been impacted over the years."

"It's an honor to publish a text that is so well-respected that it has become the gold standard in its field," said Anna Salt Troise, chief commercial officer, AAOS. "In today's multi-disciplinary approach to healthcare, influential texts like Emergency Care and Transportation of the Sick and Injured, are essential for EMS providers of all levels."

Far more than just a textbook, the 12th edition is supported by an array of innovative and flexible course delivery tools, from foundational resources that prepare students for certification, to comprehensive education solutions that facilitate student engagement and virtual learning. Learn more about these tools and the 12th edition textbook at http://go.psglearning.com/emt12.

###

About the Jones & Bartlett Learning Public Safety Group
Jones & Bartlett Learning Public Safety Group has become the world's most innovative and trusted source for educational materials and solutions for EMS and fire students, educators, and professionals by leveraging the collective value of our people, products, and partners. From initial training to recertification to retirement, we strive to be a lifelong learning partner to those who serve our communities tirelessly and ensure our safety and well-being.

About Ascend Learning
Ascend Learning is a leading provider of online educational content, simulation, software and analytics serving students, educational institutions and employers. With products that span the learning continuum, Ascend Learning focuses on high-growth careers in a range of industries, with a special focus on healthcare and other high-growth, licensure-driven professions. Ascend Learning products, from testing to certification, are used by frontline healthcare workers, physicians, emergency medical professionals, nurses, certified personal trainers, group fitness instructors, financial advisors, skilled trades professionals and insurance brokers. Learn more at http://www.ascendlearning.com.

About the AAOS
With more than 39,000 members, the American Academy of Orthopaedic Surgeons is the world's largest medical association of musculoskeletal specialists. The AAOS is the trusted leader in advancing musculoskeletal health. It provides the highest quality, most comprehensive education to help orthopaedic surgeons and allied health professionals at every career level best treat patients in their daily practices. The AAOS is the source for information on bone and joint conditions, treatments and related musculoskeletal health care issues, and it leads the health care discussion on advancing quality.