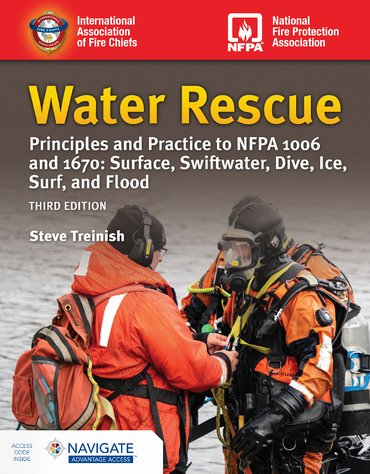 The Third Edition of Water Rescue: Principles and Practice to NFPA 1006 and 1670: Surface, Swiftwater, Dive, Ice, Surf, and Flood is available now! Check out an exclusive sneak peek.


Look inside the Third Edition today:


The third edition of Water Rescue: Principles and Practice to NFPA 1006 and 1670: Surface, Swiftwater, Dive, Ice, Surf, and Flood is a complete resource for water rescue personnel and their organizations. Based on the 2020 edition of NFPA 1006: Standard for Technical Rescue Personnel Professional Qualifications and the 2017 edition of NFPA 1670: Standard on Operations and Training for Technical Search and Rescue Incidents, this single textbook is the most current and comprehensive water rescue textbook available.
The six sub-disciplines of water rescue are broken down into awareness-, operations-, and technician- level chapters to allow instructors the flexibility to teach exactly the way they wish. In addition, the features in Water Rescue, Third Edition will help students take that extra step toward becoming outstanding rescuers. These features include:
New Awareness-Level Chapter. The new Understanding and Managing Water Rescue Incidents chapter provides a concise overview of the sub-disciplines of water rescue and the role of the awareness-level responder at the scene.
Scenario-Based Learning. You are the Rescuer and On Scene case scenarios are found at the beginning and end of each chapter to strengthen critical-thinking skills and enable students to apply their knowledge.
Skill Drills. These step-by-step explanations and visuals walk students through how to perform important skills. The clear, concise format enhances student comprehension of complex procedures to help them succeed on the training ground and in the field.
Voices of Experience. These powerful essays relay the hard lessons learned in the field by experienced water rescuers.
Practical Tips. Succinct tips offer helpful advice and encouragement while reinforcing key concepts, with a focus on safety.
After-Action Review Section. The end-of-chapter review includes detailed chapter summaries and key terms to prepare students for testing.


Water Rescue, Third Edition is supported by engaging instructor resources, including:
Detailed lesson plans

PowerPoint presentations

Instructor test bank

Skill evaluation sheets





Get Started
To learn more about this dynamic resource or to order your copy, visit go.psglearning.com/wr3e.