What is Navigate TestPrep?
Navigate TestPrep will help you prepare, study, and predict performance before taking the NREMT or other certification exam.
Developed by expert EMS educators, Navigate TestPrep is designed to serve as both a study guide and NREMT test preparation tool. Two assessment types are offered:
In Practice Mode, case-based questions with rationales help hone your knowledge. You can select both the subject area and number of questions, and you are presented with immediate feedback after answering each question.
In Final Examination mode, you are presented with over 500 randomly selected questions from each major subject area. At the end of the examination, a report will show the number of questions answered correctly, the time spent on the exam, and the final score.
"I doubt I would have passed the National Registry Exam on my first attempt without [it]." -Actual User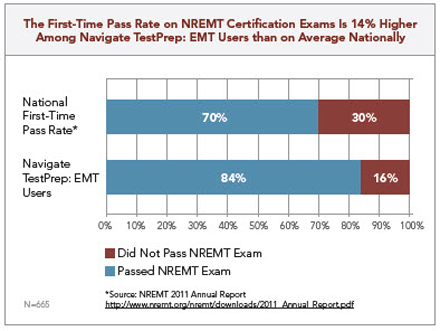 The First-Time Pass Rate on NREMT Certification Exams Is 14% Higher Among Navigate TestPrep: EMT Users than on Average Nationally
View Case Study